If we were to single out the most prevalent design idea we discovered at the 3rd annual Kips Bay Decorator Show House Palm Beach (1st February – 1st March 2020) it would be that all 19 designers – each assigned a different room or area of the house – bring aspects of the outside inside to create glorious tableaux of nature-inspired roomscapes. Read on to discover take-away design ideas from five of these designers that will inspire you to bring the outside inside!
The Design Dynamo Behind the Kips Bay House
First things first, before we get to some of the designers' ideas, let's look at the house chosen as this year's Show House as we think its owner-designer is key to understanding the "green" trend within the Show House. The sprawling house was designed in the Cape Dutch style by its owner – famed interior designer and antiques dealer Lars Bolander. Although Bolander is not one of the house's featured designers, his style and inspiration seeps through many of the designs in the house. Known for "theatrical simplicity" blended with Scandinavian influences and flourishes of nature indoors (think room-sized potted trees and lush plants), Bolander is a long-term resident of Florida but also one of Sweden's foremost interior designers.
Bolander's stores in West Palm Beach, New York City, and Connecticut all feature a relaxed, indoor-outdoor living style. His newest store has a room-sized tableau featuring sofas atop a large, dark red tribal rug over which hangs a delicate white paisley patterned indoor tent-style canopy – an outdoor-indoor look that works inside the home as well as on a patio or deck. So take it from us, the big trend from 2020 onwards is bringing nature indoors via blues, greens, natural textures (think handmade natural fiber rugs) and plants – lots of plants!
Natural Fiber Hand-knotted Rugs Help Bring Nature Indoors
Hand-knotted wool rugs are a chief example of how a carefully chosen featured décor item can instantly transform a room. Choose rugs that echo nature through color (greens and blues of course but also cloud-like whites) balanced by an abstract design like one of our hi-low pile hand-knotted rugs or through more realistic, nature-based designs like the ever popular "Tree of Life" motif. Time to read on for nature-based design tips from the designers at Kips Bay Palm Beach!
Key Designers and their take-aways from Kips Bay Palm Beach
Kevin Isbell Interiors– his "Writer's Retreat" guest suite features a tribal rug next to the bath and a swirling abstract rug next to a tent-style bed. The tent bed brings the outside in as does the tropical palm tree panoramic wallpaper. Notice how Isbell's choice of a strongly colored rug enlivens the bathroom's black and white theme which looks like it was inspired by the narrow black and white decorative band in the rug's design. Or maybe the black and white theme inspired Isbell's rug choice? Either way the take-away is clear: a strongly patterned rug like a tribal can work with other strong patterns if the rug does the heavy-lifting color-wise, while the other patterns remain "neutral", a role which black and white achieves in this room.
Light on White, directed by Alizée Brion, changed the home's entrance into an allée of tropical greens and trailing plants hanging from white pots held securely by '70s style macrame slings. Called "Le Jardin" by Brion, the hall is dominated by shades of green and accented with over-sized fern frond wallpaper.
Sarah Blank Design Studio– the colorful blue kitchen cabinets are accented with large red terracotta urns displayed on an open shelf below a center island. Far be it from us to suggest a change, but we can't help wondering if a tribal runner atop the wooden floor between the island and the sink might be a preferred choice rather than the blue runner the designer chose? A runner with striking colors would refer back to the terracotta urns while grounding the blue cabinetry, rather like how the earth "holds" the blue sky in nature.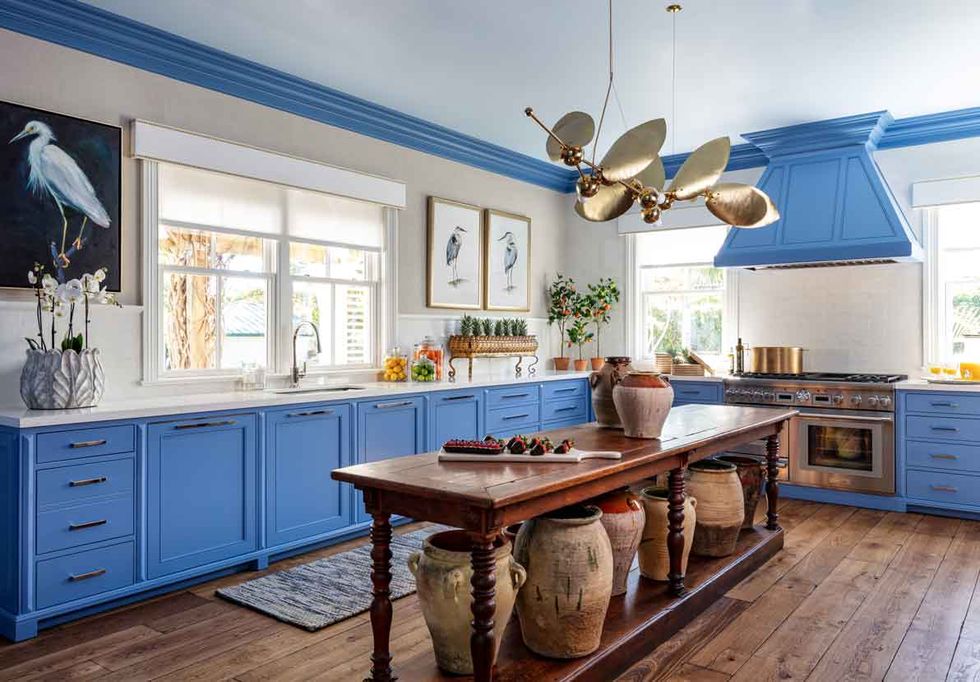 Branca Inc, directed by Alessandra Branca– blue and green are two colors associated with nature, but in Branca's serene bedroom, shades of blue predominate while green is reserved as a punctuation point via a single large-scale potted philodendron. The drama of the green punches up the blue without overpowering the delicacy of the blues. Branca's plant choice is yet one more example of the inside-outside trend.
Brady Design directed by Brian and Alexandra Brady– transformed the entryway of the house using yet another panoramic palm tree wallpaper, this time one designed by Jim Thompson.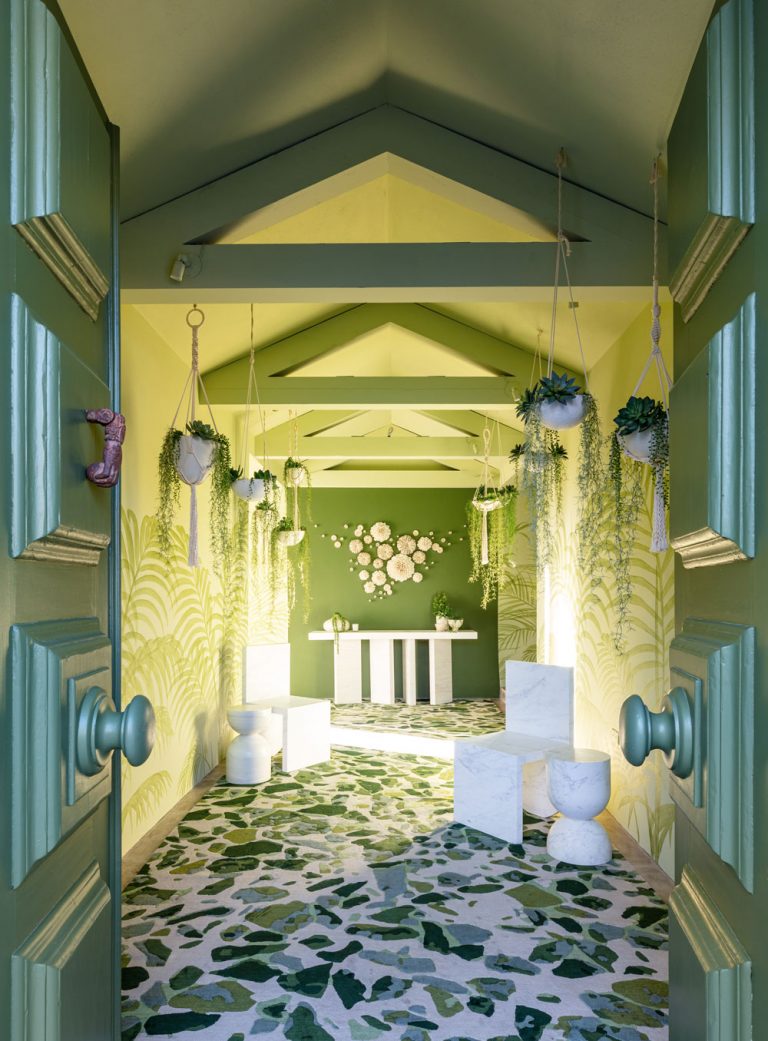 Bringing the outside inside is more than a trend. We predict it will shift from trend to a standard design element for years to come. And while "Classic Blue" is Pantone's 2020 color of the year – a choice meant to instill calm, confidence, and connection" – we interpret the prevalence of blue-green themes at Kips Bay Palm Beach as an indication that we're all yearning for more of the natural world, and no better way to help your home reflect this aspiration than with a natural fiber, handmade rug.