The world's most famous sofa is in a modest house museum in a London suburb. The circa 1890 sofa belonged to the famous psychoanalyst Sigmund Freud, and is covered in layers of Oriental Rugs with another rug hanging on the wall behind the sofa. The sofa is where Dr Freud's patients reclined during sessions, so it's safe to assume the rugs gave his patients a sense of warmth and security. Whatever the reason for the rugs, the interior decorating idea of layering Oriental rugs – new, vintage, or antique – on furniture and floors is not a fusty, dated idea, but a confirmed contemporary trend.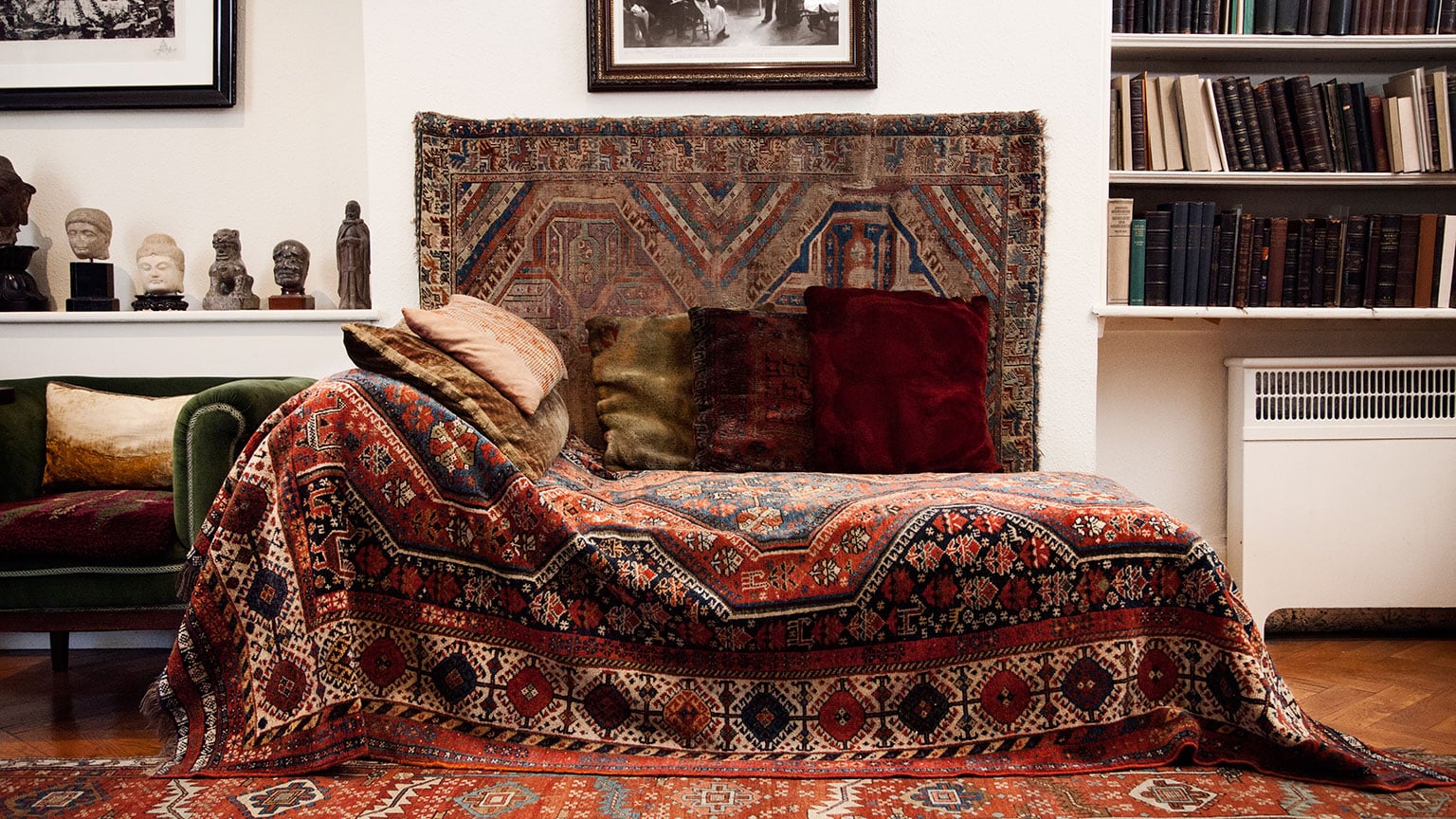 A Brief History of Layered Rugs
Rugs have been used throughout history in more ways that just covering a floor. Rugs and Kilims were used to hang on walls, as room dividers, as bedspreads, table covers, and of course as floor carpets.
When Europeans began to buy Oriental rugs they were expensive and highly valued, so often they were used to cover furniture rather than floors to protect them from damage. By the 20th century, designers and architects like Charles and Ray Eames and Le Corbusier used Oriental rugs in their modern homes, with the Eames duo layering multiple traditional Oriental rugs in the den area of their super modern California home. These designers knew that incorporating Oriental rugs was a quick and effective way to create layers, contrast, and visual warmth while "broadcasting" their knowledge of valuable textiles and
embracing globalism.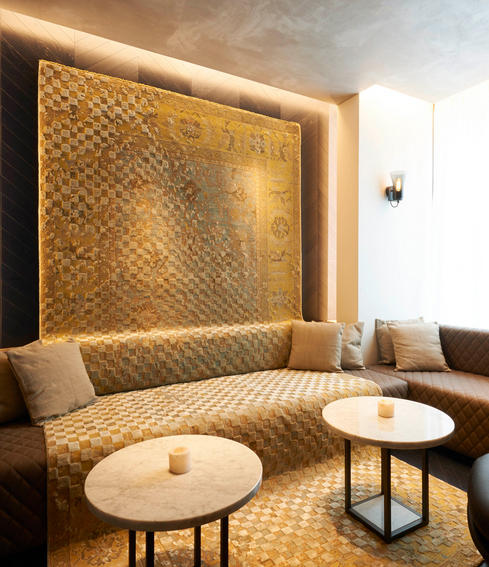 Why Layered Rugs?
Without Freud around to help us psychoanalyze this trend, let's consider a few reasons why layering is a great idea for homes and the hospitality industry.
• Layers create a sense of well-being, and when stress is the default position for many of us, well-being is no longer a luxury, but a necessity for personal and professional spaces
• Layers create visual warmth (a good thing!) and in practical terms layers also create thermal insulation which is no bad thing if you want to reduce heating bills
• Layers allow you to use more of what you love in a limited space, and with more of us living in small spaces, layering is a welcome trend!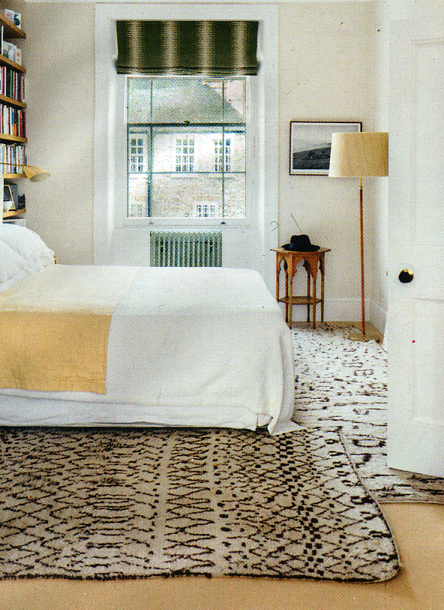 Layered Rugs in the Hospitality Industry
Two new on-trend boutique hotels opened in 2016 – one in New York and the other in Paris – and each one creatively employs the layered rugs concept.

The Beekman Hotel, New York City, is in a historic building dating from 1883 during the Victorian era. Described as "cozy glamour", guests are welcomed at the wood panelled reception by a long desk layered with a succession of classic Oriental Rugs. Designed by Martin Brudnizki Design Studio, the rugs are carefully curated to curve with the shape of the desk to create a single sleek look. Lighting hidden beneath the curve further unifies the different rug designs.

The design of The Beekman Hotel successfully employs the 25% rule for layering antiques and vintage with new and contemporary. The most successful designed rooms have a subliminal sense of proportion to avoid any one style or era from predominating (remember, you don't want your room looking like Freud's sofa in a museum!). Keep antiques and vintage objects (including rugs) to no more than 25% of a room's real estate, and use contemporary or new items for the remaining 75%. The Beekman Hotel's reception deftly achieves this rule by the way in which they've layered the antique rugs in a highly contemporary way, and by lightening the look with a brightly tiled floor and contemporary art.

The boutique Amastan Hotel in Paris opened 2016. Similar to The Beekman Hotel, the design cleverly incorporates an Oriental rug but in a completely different way. A sofa alcove in the hotel lounge features a large gold contemporary rug that hangs from the ceiling, drapes over the sofa, and falls to the floor to continue as a rug. The look is dramatic and contemporary, and the rug's status as a work of art is enhanced not only by its use as a partial wall hanging but by dramatic lighting that makes the rug look like an artwork in the Louvre Museum.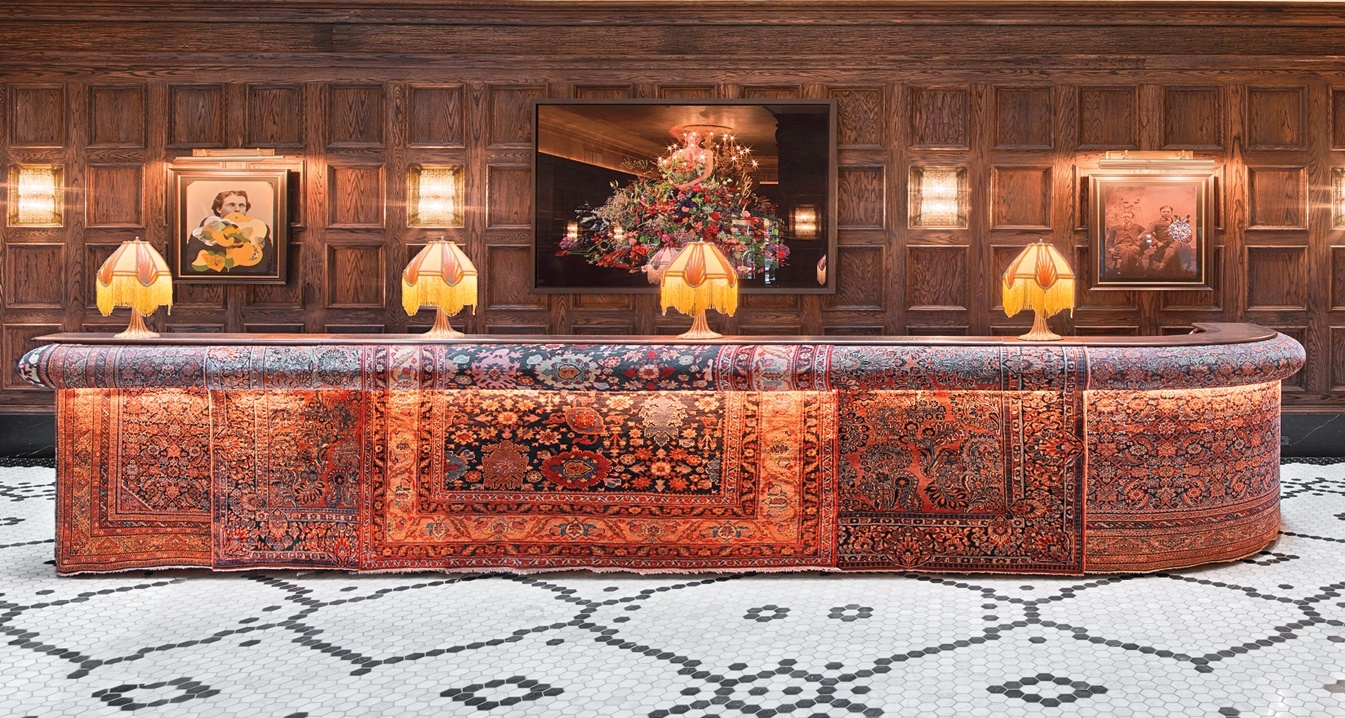 How to Get the Layered Look at Home
The easiest way to get the look is to layer rugs on your floors. Rather than match your rugs, choose different patterns and sizes as contrast, but choose similar colorways and weaves to create harmony. Lay the rugs at angles to create more interest, but always remember to consider how the rugs lay together and are anchored to the floor (placing furniture on top is the best method) to prevent trip hazards.

Borrowing the layered rug concept from The Beekman Hotel might not work in every home, but why not steal the look of the Amastan Hotel and hang a rug on a wall and allow it to dramatically drape over the top of your sofa? This look will fit most homes and is especially welcome in smaller homes where floor space may not be large enough for a huge rug. Not only does this idea create a dramatic focal point on the wall while providing thermal warmth, but it will allow you to own a light colored rug that you might otherwise avoid if you have kids or pets.

Layering rugs in the ways described might be viewed by some as a temporary trend, but Oriental rugs are a classic design object. They have survived and thrived longer than any other design object, and they will survive all trends. Bottom line? The Oriental rug is never out of style, so layer them with abandon and enjoy!