A work from home office can range from a privacy bubble like a laptop case that opens to form wings either side of the laptop to "delimit a workspace in any location or circumstance", or it can reflect the trend for "micro decorating" as a desk-based zoned space. The micro trend was set in motion before global coronavirus lockdown, but it has accelerated as more of us move towards working from home on a full-time or part-time basis. Quick, easy, and affordable are the mantras of the micro decorating trend – read on for our super simple rug idea that combines the trend for Suzani textiles as wall hangings with the trend to zone an area in your home as a "micro office".
For many of us locating an area in the home for an office isn't easy when space is at a premium. Few of us have a spare room that can be turned into an office, so the alternative is to zone a micro area in a room. While some opt for an office in the bedroom others see potential in dedicating a micro area of a family room or living room to function as an office by simply using a small table or a desk with a chair. Similarly to the way we at Shahbanu promote the use of rugs to zone spaces in a room in order to "code" space so users intuitively understand how the space is used, so too we think the best way to zone your desk area is with a striking rug hanging on the wall behind your desk or table.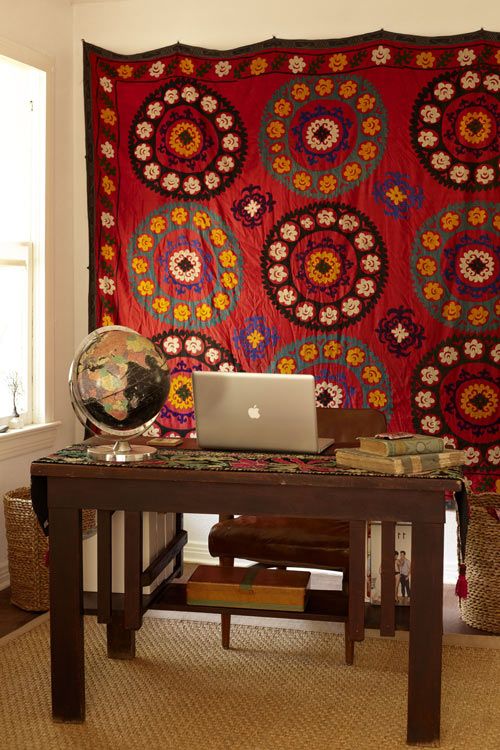 Suzanis are hand embroidered textiles featuring delightful Persian-inspired vibrant flowers, vines and other floral themes. Vintage examples were created as bed covers, wall hangings, and frames around door openings, but they were never intended to be used as rugs as the textile and embroidery are too delicate for foot traffic. So if you are inspired by the patterns of Suzanis, why not use a Suzani patterned rug as a wall hanging instead of a vintage Suzani textile?
There are several advantages for hanging a rug instead of a textile in your home office, particularly if your micro office is part of a high traffic space. The first advantage is that rugs generally have a denser fiber matrix than most textiles which means rugs help absorb sound – a bonus if your office routine includes audio such as zoom or cell phone calls. We can't promise that sound won't travel at all, but rugs do act as effective sound baffles on walls or floors. Secondly, one of our Suzani patterned hand-knotted wool rugs will be far easier to spot clean should a splatter of coffee find its way to the rug surface. If you live in an apartment consider laying a rug underneath your desk too. It will not only tie the overall design scheme together and further consolidate your office zone, but it will help prevent impact and vibrational sound from reaching your neighbors.